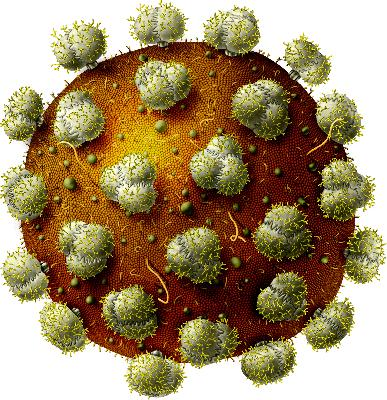 South Africa's approach to HIV/AIDS has dramatically changed in recent years. For more than two decades, a combination of government inaction, socio-political conflict, and controversial public health policies led to the situation that South Africa finds itself in today: home to the largest number of people living with HIV. Now the country is trying to make up for lost time, both in prevention and in treatment.

The government has launched an ambitious HIV Counseling and Testing campaign that would include 15 million people by 2011, with the goal of reducing the HIV incidence rate by half. At public health clinics across the country, addressing the science of HIV/AIDS means addressing a litany of social problems, too. Producer Gemma Hooley speaks to scientists, researchers, field workers and patients as South Africa fights to slow the march of the virulent disease. Our program today is called The Clinic.

The photograph of the Human Immunodeficiency Virus (HIV)was provided with permission from the Nebraska State Museum/ Angie Fox, Ilustrator/ 2005.
The Clinic was produced by Gemma Hooley, and mixed by Jared Weissbrot with support from science editor Barbara Culliton. This program is part of the series "World of Viruses" produced with support from SEPA, the Science Education Partnership Award Program at NIH, the National Center for Research Resources, in collaboration with NET Radio, the Nebraska Center for Virology and the University of Nebraska.


Links:
World of Viruses


Check out our collection of documentaries that focus on different viruses, from those necessary for the environment to others detrimental to our health.

'Anti-Rape' Condom
A doctor in South Africa has created a condom with "teeth" to combat rape.

Right to Care
Right to Care is an non-profit organization that delivers and supports quality clinical services, in Southern Africa, for the prevention, treatment, and management of HIV and associated diseases.

Gel to Prevent HIV Infections in Women
South African researchers create a groundbreaking aid in the prevention of HIV transmission in women.

Books:

First Year: HIV: An Essential Guide for the Newly Diagnosed (First Year Series)
by: Brett Grodeck, Daniel S. Berger 2007

Naked Truth: Young, Beautiful, and (HIV) Positive
by: Marvelyn Brown, Courtney Martin 2009
The perfect life of 19 year-old is turned upside down, but recovers with her head help up high, after she finds out she contracted HIV from her boyfriend.
The Price of Stones: Building a School for My Village
by: Twesigye Jackson Kaguri, Susan Urbanek Linville . 2010
A graduate of Columbia University returns to his home country of Uganda and helps rebuild the lives of its orphans who have one or two parents that have died from AIDS.
On the Down Low: A Journey Into the Lives of Straight Black Men Who Sleep With Men
by: J. L. King 2007
A reviting read on the double lifestyles of some African American men and the debilitating results on their families.