Original Kasper's Hot Dogs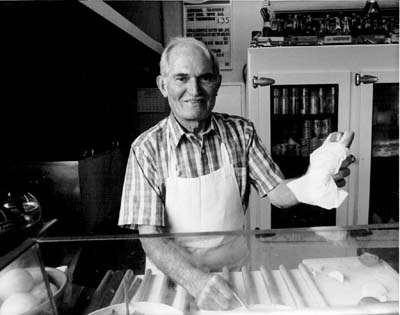 During its seventy year tenure, a hot dog stand in Oakland has become an anchor for residents of the city's Temescal neighborhood in good times and bad. This is the story of Kasper's Original Hot Dogs.
Original Kasperís Hot Dogs was produced by Peter P. Thompson.


Links:
Best in Show: Original Kasper's - Oakland's own Pedigreed Dog


One writer shares her hot dog experience at Kasper's.

Original Kasper's Hot Dogs
The official website of the famous hot dog establishment.

Books:

Hot Dog Companion: A Connoisseur's Guide to the Food We Love
by: David J. Graulich, David Graulich, Designed by Kevin Hanek 1999

Legacy : A Step-By-Step Guide to Writing Personal History
by: Linda Spence 1997
Everyone has a story, what is yours? Find out how to write a personal history.
The Burger and the Hot Dog
by: Jim Aylesworth (Author), Stephen Gammell (Illustrator) 2001
A delightful children's book of rhymes, from the dueling hot dog and burger to other foods personified.
Guerrilla Marketing for the 90's: The Newest Secrets for Making Big Profits from Your Small Business
by: Jay Conrad Levinson (Author) 1998
Strategies for a small business in today's competitive market.


Guys, it's about the hot dog.
by: Steve Spence, Ann Arbor, Michigan, Managing Editor of Car and Driver Magazine, SOUNDPRINT Listener

The old guy who owned and ran the place, by himself, Kasper, made them one at a time. He rejected the whole notion of "fast food." At lunchtime, you had to stand in line, and when you finally got to the head of it, he