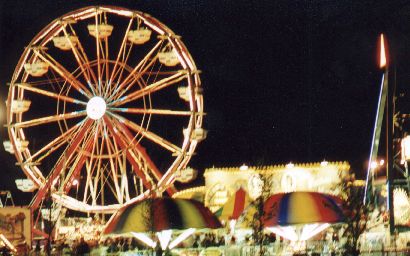 Summer afternoon. The two most beautiful words in the English language, according to Henry James. While away the afternoon at a ballgame. Take your kid to the state fair. Go for a ride on a Ferris wheel. It's the one time of year when nature sets out to amuse us. Of course, it's an illusion. You need only be stuck behind a desk and looking out the office window to get a reality check. But if summer is an illusion, at least it's a grand illusion, and well worth the trouble. Producers David Isay, Dan Collison, and Neenah Ellis take us back stage behind the sets, props, facades, carnivals, games and country fairs. We're going to meet the technicians of summer, the people who work to make it happen.
Summer Triptych was produced by David Isay, Dan Collison, and Neenah Ellis, with support from the Corporation for Public Broadcasting.


Links:
Virginia Draft Horse and Mule Association


This organization hosts plowing contests like the one featured in the program.

Way Back Summer Vacation
PBS Kids' interactive site suggests summer vacation ideas and activities that highlight people and places in American history.

Welcome to Coney Island
A visitor's guide to the best of Coney Island.

Nathan's Famous Hotdogs
The original web site of America's favorite summertime food.

Digital Ballparks
A photo gallery of baseball stadiums across the country.

Brooklyn Borough President
Official Web site of Brooklyn Borough President Marty Markowitz including events, press releases, and photos.

Books:

The Ballpark Book: A journey through the fields of baseball magic
by: Ron Smith, Kevin Belford (Illustrator) 2003
Tour the country's ballparks, from coast to coast, through history, memoirs and hundreds of color photos.
Coney Island: The People's Playground
by: Michael Immerso 2002
Travel back in time to the heyday of Coney Island, the Mermaid Parade, and the legendary Cyclone rollercoaster.
Let's Go USA Travel Guide 2004
by: Jeremy Todd, Kristin Kitchen, Ariel Fox (Editors), Contribution by Ben Davis and Stephanie L. Smith 2003
You'll find everything you need to plan your summer road trip in this and other
Summer Vacation/Found Photographs
by: Sharon Delano 2000
This collection of photographs from the thirties to the sixties captures the energy of the American summer vacation.
Baseball for Dummies
by: by Joe Morgan , Richard Lally , Sparky Anderson 2005
Learn the basics of baseball like pitching, hitting, fielding, and baserunning.