Schokland - The Island on Dry Land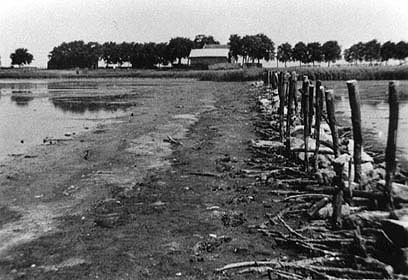 In the middle of Dutch wheat fields, miles away from the sea rises the little island of Schokland. In the never-ending tug of war with the sea, the Dutch rescued the island from the sea by building one of their famous polder dikes. The island soon bustled as a farming community and a tourist spot. Now the island is sinking, and Radio Netherlands producer Michele Ernsting reports that in a dramatic reversal of their old policy, the Dutch have decided to flood the land around it - to keep Schokland afloat. This is part of our special international collaboration called Global Perspective: Nature in the Balance.
Schokland - the Island on Dry Land was produced by Michele Ernsting of Radio Netherlands. It originally aired as part of the international collaboration Global Perspectives:Nature in the Balance.


Links:
Netherlands, Schokland and Surroundings


This site features photographs of Schokland and other UNESCO World Herritage Sites.

Schokland, an island in time
Read about the history of the island and browse photos of the landscape.

Zuiderzee Works
An encyclopedia of information on Holland's fight to reclaim land from the sea.

Global Perspectives Radio Series
Listen to other programs from SOUNDPRINT's international radio documentary exchange series that addresses topics that impact our planet.

Books:

Netherlands
by: Michelin Travel Publications 2004
A guide to the culture and towns of the country.
Dams and Dikes in Development
by: Hans van Duivendijk, Cees-Jan van Westen, Westen C. J. van, Bart Schultz (Editors) 2003
Proceedings of the Symposium at the Occasion of World Water Day, 22 March 2001.