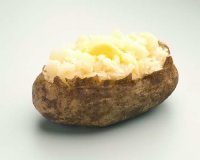 The Tasmanian potato farmers in Australia now sell their produce to McDonalds. Once they made a decent living selling to open air markets in Sydney. Now they barely get by. Australian Broadcasting Corporation's Roz Bluett reports how one man is trying to change that. This program is part of our special international collaboration called Global Perspectives: Faces of Globalization.
Links:
Global Perspectives Radio Series
Listen to other programs from SOUNDPRINT's international radio documentary exchange series that addresses topics that impact our planet.
Global Potato News
Market information, statistics, news and research on the potato industry.
Tasmanian Farmers and Graziers Association
News and information on vegetables grown in Tasmania.
Information on Potato Production in Australia
Information about potato production in Australia, including government regulation of the crop.
Books:

Growing Potatoes
by: Richard Bird and Alex Barker 2002
Learn how to harvest your own potatoes.
History and Social Influence of the Potato
by: Redcliffe Salaman, J. G. Hawkes (Editor) 1990
The impact of potatoes on the economy throughout history.
Tasmania
by: I. Kepars 1997
A history of Australia's smallest state, including information on food and the economy.