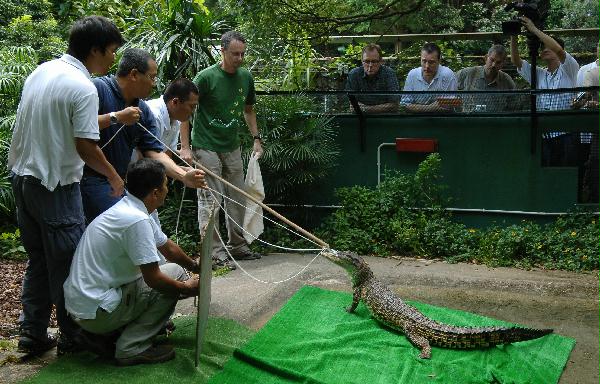 Hong Kong is largely known for its sophisticated mix of every thing modern, and its thriving economy, but this island city of over 7 million people also has a thriving animal kingdom. Like their human counterparts, these animals are not native to the land. Sarah Passmore of Radio Television Hong Kong introduces these animals, from "Pui Pui" the celebrity crocodile to the Rhesus Monkeys that terrorize women and children. For our Global Perspective Series on Escape, Sarah Passmore shows us around Hong Kong where the Buffalo roam.
Links:
Hong Kong Wetland Park
This Wetland park, also Pui Pui's home demonstrates the diversity of the Hong Kong's wetland ecosystem and highlights the need to conserve them.
Pui Pui the celebrity Crocodile
Hong Kong's Wetland Park left nothing to chance as the precious crocodile that avoided capture for seven months settled in its new "well furnished" home.
Books:

Frommer's Hong Kong
by: Beth Reiber 2009
This detailed guide around Hong Kong will play the role of tour guide.