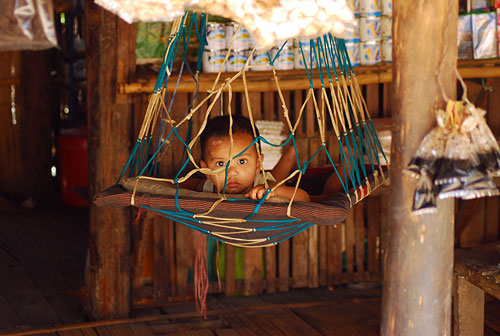 The streets of Mae Sot, on the Thai Burma border, are full of stories of loss and death and flight. About two and a half million Burmese have fled their country for Thailand, Burma remains one of the poorest countries in the world, and the protests against the military dictatorship have done little to change peoples' lives. In this episode, Nicole Steinke of the Australian broadcasting Corporation visits the extraordinary haven of Dr Cynthia Maung's Mae Tao Clinic. Funded mainly by foreign donations, Mae Tao Clinic runs the training center for the Backpack Medical Teams and the Free Burma Rangers, both of whom illegally cross the border back into Burma to help the country's ethnic minorities survive the onslaught of the Burmese military. The Clinic is also where people come to vaccinate their babies, to be treated for malaria or cholera, or to receive a prosthetic -- many of the refugees fleeing the Burmese military have been forced to act as unwilling porters, or even as human landmine detectors. We also meet long-time political prisoners, ethnic Burmese working to help their own people in their struggle against the Burmese military, and children who have crossed the border alone.
Green Tea and Landmines was produced by Nicole Steinke of the Australian Broadcasting Corporation. It airs as part of the international documentary exchange, Crossing Boundaries. UPDATE: On June 30 2009, a young school teacher became the 50,000th refugee from Burma to be resettled under the resettlement program by UNHCR. Plu Reh (23), and his 20 year-old wife with their two-year-old daughter will resettle in Camden, New Jersey. A member of Burma's ethnic Karenni minority, Reh has been in one of the nine refugee camps since 1996. He officially applied for resettlement in 2005.


Links:
Burma


Learn the facts about Burma

Thailand and Bangladesh Maltreat Refugees
Abuses from Thai and Bangladeshi authorities to Burmese refugees have been reported including sexual violence and forcing some refugees across the border into the Democratic Karen Buddhist Army (DKBA), a pro-Burmese government armed group.

Undercover in Burma
After Cyclon Nargis hit Burma, reports of a lack of aid from the government for those hardest hit surfaced. Journalist Simon Ostrovsky went undercover to report on the current situation.

Peace Way Foundation
The Peace Way Foundation funded project, documents events that would garner grassroots activism, generating a movement for lasting peace and justice to Burma.

Books:

From the Land of Green Ghosts: A Burmese Odyssey
by: Pascal Khoo Thwe 2003
Thwe details his childhood in Burma including the demise of his community that resulted in him being a guerrilla, and eventually fleeing to England.
The River of Lost Footsteps: Histories of Burma
by: Thant Myint-U 2006
Thant Myint-U tells the story of modern Burma. Even with its modern day isolatory status, this book shows its contribution to the world's history in more ways than one will ever know. A fun read!