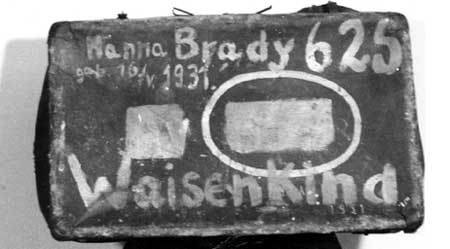 At the Children's Holocaust Education Center in Tokyo, children - flocks of them - come to see a suitcase, sitting in a glass case. The owner of the suitcase was Hana Brady. She died in Auschwitz in 1944 at age 13. The museum acquired the suitcase a few years ago and since then the director, Fumiko Ishioka, has made it her mission to find out more about Hana. Her search leads to George Brady, Hana's older brother. This program comes to us from the Canadian Broadcasting Corporation and airs as part of the international documentary exchange series, Crossing Boundaries.
Hana's Suitcase was produced by Karen Levine (luh-VEEN) of the Canadian Broadcast Corporation. The story was told by museum director Fumiko Ishioka, and George Brady, Hana's older brother. This program originally aired as part of the international documentary exchange collaboration, Crossing Boundaries.


Links:
Holocaust publications reviews and discussion group


A site providing access to diverse bibliographical research and teaching aids for scholars of the Holocaust.

The Children of the Holocaust
An exhibit of the Museum of Tolerance dedicated to the children of the Holocaust. The museum was founded to challenge visitors to confront bigotry and racism, and to understand the Holocaust in both historic and contemporary contexts.

Remember
A comprehensive library and gallery sharing art, discussion boards, photos, poems and facts to preserve powerful memories of the Holocaust.

Books:

The Last Witness: THe Child Survivor of the Holocaust
by: Judith S. Kestenberg, M.D. and Ira Brenner, M.D. 1996
Based on 1,500 interviews with Holocaust survivors, The Last Witness is an in-depth study of the traumatic effects of genocidal persecution on the child's psychic structure and development throughout the life cycle.
Survival in Auschwitz: The Nazi Assault on Humanity
by: Primo Levi 1995
In 1943, twenty-five year-old chemist and 'Italian citizen of Jewish race' Primo Levi was arrested by Italian fascists and deported from his native Turin to Auschwitz. Levi's classic account describes his ten months in the German death camp, remaining a lasting testament to the determination of the human spirit.
Pearls and Lace
by: Magdalena Klein 1997
Magda, the youngest child of a middle-class Jewish family in northwestern Romania, was an eyewitness to the rise of fascism in Europe and the horrors of World War II. The poetic journal she kept during those years shows the stark contrast between her youthful love of life and the grim reality of the world around her.
Hana's Suitcase
by: Karen Levine 2003
Read the print account of the story featured in the documentary.