Living History in Colonial Williamsburg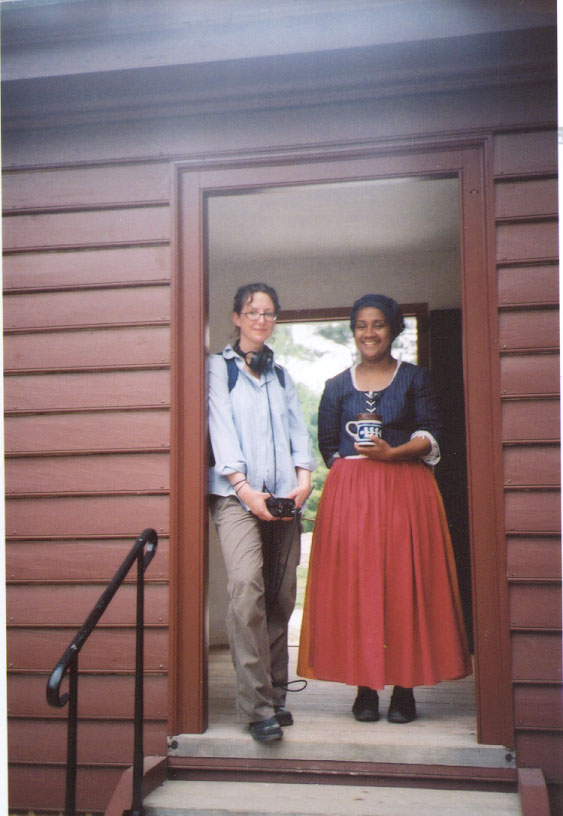 Step back in time to the eve of the American Revolution, following a woman whose job it is to play an 18th slave character in Colonial Williamsburg; a woman who must learn, in 2004, to interpret and recreate 1770 slave culture for a tourist audience. The story is told through this character's own narration and reflection, her interaction with other historical characters and with the tourist public in Williamsburg, and through documentation of her daily tasks. As she steps in and out of character, we discover what it's like to step in and out of history: re-enacting the mundanities and tensions of 18th century life in the fields and kitchens during the day and negotiating a modern 21st century life after visiting hours.
Living History in Colonial Williamsburg was produced by Gemma Hooley, with production and field recording assistance from Katie Gott and Nahil Sharkasi. The piece was recorded and mixed by Jared Weissbrot. Our thanks to Lorraine Brooks at the Colonial Williamsburg Foundation and Chuck Smith at Colonial Williamsburg Productions. Special thanks to Chris and Kali Nelson. This program originally aired as part of our 24 Hour Series, funded in part by the National Endowment for the Arts.


Links:
In Williamsburg, the Painful Reality of Slavery


This Washington Post article reviews programs that show the reality of slaves' experiences in Colonial Williamsburg.

Founding Fathers
Resources and information on the first American patriots.

American Park Network
Learn about the history of Colonial Williamsburg, and the preservation of the town.

Colonial Williamsburg
The official web site of Colonial Williamsburg.

Books:

Harriet Tubman: The Road to Freedom
by: Catherine Clinton, Deborah Baker (Editor) 2004
This portrait of Harriet Tubman shines light on the many sides of her persona, from her journey north on the Underground Railroad, to her leadership of Union Army troops during the Civil War.
An Imperfect God: George Washington, His Slaves, and the Creation of America
by: Henry Wiencek 2003
This exploration of George Washington's involvement with slavery as a plantation owner, soldier, politician, president, and statesman shows how his views on this
From Calabar to Carter's Grove: The History of a Virginia Slave Community
by: Lorena S. Walsh 1997
Analysis of plantation records, artifacts, and ruins lead to this substantial picture of a Virginia slave community.
Official Guide to Colonial Williamsburg
by: Michael Olmert, Colonial Williamsburg Foundation Staff, Suzanne E. Coffman 1999
A guide for tourists and history buffs planning a trip to Colonial Williamsburg.