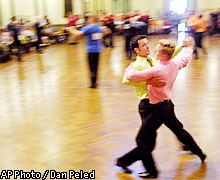 Ian and his partner had no experience dancing in competition. Yet they decided to enter the ballroom event at the International Gay Games held in Australia. They kept an audio diary of their training in the Waltz, the Quick Step and the Tango. They also recorded how they learned to glide around the dance floor with confident smiles, even when shaking with nerves and, on one memorable occasion, with Ian's trousers falling down. Ian Poitier steps out onto the dance floor and takes us into the world of ballroom dancing. This program was produced by Louise Swan of the BBC and is part of our international documentary exchange series, Crossing Boundaries.
Gay Ballroom Dancing was narrated by Ian Poitier, and produced by Louise Swan of the BBC. It originally aired as part of the international documentary exchange series, Crossing Boundaries.


Links:
Victor Victoria's


This not-for-profit group organizes dances for the gay community in Leeds, England.

Federation of Gay Games
Organizers of the International Gay Games and other events for gay athletes.

Books:

Dancer from the Dance
by: Andrew Holleran 2001
This novel tells the story of a young gay man's search for love in New York.
The Complete Idiot's Guide to Ballroom Dancing
by: Jeff Allen 2002
An easy and fun guide to social dancing complete with a CD of songs matched to each different dance.
Jocks
by: Dan Woog, Edited by Kevin Jennings 1998
This book tells the hidden stories of gay athletes, and what happens when they "come-out" to their teammates.
Gay Relationships
by: Tina Tessina 2003
A guide for a successful gay relationship.