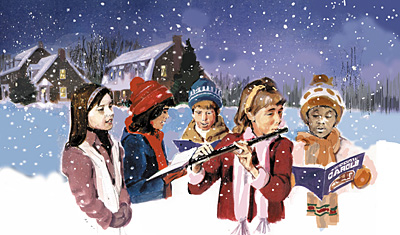 There is a centuries old caroling tradition that was thought to be lost, but discovered to still exist in a tiny village in Newfoundland. The villagers sing the New Year's carol, brought from Europe with the first settlers, and handed down through the ages in the community's oral tradition. There is no written transcription of the melody or its origin. For generations villagers have walked from house to house, entered darkened kitchens after midnight, and sung the carol as occupants listened in the darkness. Producer Chris Brookes tracks down the village carolers and follows them on their rounds as they sing their medieval melodies.
A Little Before 'Tis Day was recorded and produced by Chris Brookes. Special thanks to Anita Best and Christina Smith.


Links:
Glen Rock Carolers


For over a century, Glen Rock, New Jersey, has had its own carolers that sing from midnight to 7 a.m. christmas morning.

Comfort and Joy - Christmas Songs of Newfoundland and Labrador
Sample some of the traditional Christmas music of Newfoundland.

Brighton, Newfoundland Guide
Uncover the local history and plan a visit to the community of Brighton.

The Christmas Caroling Tradition of Green's Harbour, Trinity Bay, Newfoundland
Learn more about the communities who have kept the medieval caroling tradition alive

Folklore and Traditional Culture
This article explores the heritage of Newfoundland.

Books:

New Oxford Book of Carols
by: Hugh Keyte (Editor), Andrew Parrott (Editor), Clifford Bartlett (Editor)
Over 300 carols for the Christmas season, composed and folk, sacred and secular, and spanning various traditions.
Christmas Spirit: The Joyous Stories, Carols, Feasts, and Traditions of the Season
by: Gregory Wilbur, George Grant
Offers the explanation behind mistletoe, plum pudding, holly, nativity scenes, and the joy of the season.