After Graduation: Meeting Special Needs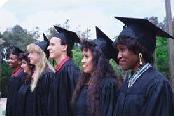 Many learning disabled students are finding that they learn more readily with a variety of technology assistance and human support in their classrooms. But what happens once they leave school? Whether moving into the workforce, or on to higher education, most high school graduates discover they must adjust to new environments on their own and learn to advocate for themselves. Alyne Ellis takes a look at how some schools and universities are trying to ease the transition of learning disabled students to a life after graduation. This program is part of our ongoing series on education and technology and is funded in part by the United States Department of Education.
After Graduation: Meeting Special Needs was produced by Alyne Ellis. The field producer was Katie Gott, and the show was mixed by Jared Weissbrot. This program is part of our series on Education and Technology, produced with support from the US Department of Education.


Links:
Council for Exceptional Children


A resource for teachers, parents, and students with learning differences.

Sollers Point Technical High School
Explore the programs and mission of this technology-based alternative high school in Baltimore, Maryland.

Montgomery College's College Access Program
Get more information about the CAP program for special needs students in Rockville, Maryland.

Landmark College
Featured in the documentary, Landmark is a college specifically for students with learning disabilities and AD/HD.

Books:

Assistive Technology for People with Disabilities
by: Diane Pedrotty Bryant, Brian R. Bryant
This book provides a discussion on the use of current technology in the field of special education.
Transition Strategies for Persons with Learning Disabilities
by: Craig A. Michaels (Editor)
Addresses employment issues, self-advocacy skills, social skills training, postsecondary education, and independent living for young adults with learning disabilities.
Colleges with Programs for Students with Learning Disabilities or Attention Deficit Disorders
by: Charles T. Mangrum (Editor), Stephen S. Strichart (Editor)
A volume detailing a full range of programs for special needs students.