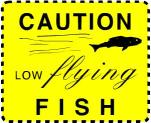 A spirited exploration of the culture of extreme motivation in America, from team- and vision- building in the corporate world ... to the multi- million dollar industry of self-improvement books and videos. Along the way, we'll meet Seattle's famous corporate-training fishmongers; hear from someone trying to figure out Who Moved Her Cheese; and be introduced to despair.com's lucrative mockery of the whole motivation business.
"Low Flying Fish!" was produced by Gemma Hooley. The show was mixed by Jared Weissbrot. Thanks to BizFutures and Merrill Lynch. Extracts from the Focus series of the Franklin Covey company; from David Whyte's book "The Heart Aroused" on Bantam Doubleday Dell Audio Publishing; and from "Who Moved My Cheese" by Spencer Johnson, published by Penguin Putnam Inc. Special thanks to Sniff, Scurry, Hem, Haw ... and frozen salmon everywhere.


Links:
Soul Graffiti


created with the single mission of building a community aimed at shifting consciousness away from "material graffiti" to that of "soul graffiti."

Franklin Covey
Consulting, planning and training programs that are meant to increase productivity.

Despair.com
Offers clothes, stationery and prints promoting laziness, idiocy and dissatisfaction.

Fish Philosophy
Learn about the four principles adopted by the staff of the Pike Place Fish Market.

bizFUTURES Consulting
The bizFUTURES Consulting Company works with organizations to develop a learning and coaching culture.

Pike Place Fish Market
Where the fish philosophy was born...

Books:

Who Moved My Cheese? An Amazing Way to Deal with Change in Your Work and in Your Life
by: Spencer Johnson, Kenneth H. Blanchard 1998
A brief tale of mice, men and the cheese that rules them both, "Who Moved My Cheese?" is a modern-day parable for the corporate worker.
The Heart Aroused : Poetry and the Preservation of the Soul in Corporate America
by: David Whyte 1996
This recording promises to bring poetic insights to soul-withering corporate life and to restore creativity and commitment to the workplace.