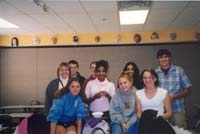 From 6:00 am to 6:00 pm, a student, teacher, and principal let us in on their world of bells, tests, technology, and teen life. We track what a day is like at Westfield High School in Virginia. With almost 3,000 students, it is one of the largest schools in the Washington, DC area. This program is part of our ongoing series on education and technology.
High School Time was produced by Richard Paul. Field producers were Lakshmi Singh and Katie Gott. The show was mixed by Jared Weissbrot. We'd like to thank Matt McCleskey for recording sound for this program. Also thanks to the faculty, staff and students of Westfield High School in Chantilly, Virginia for their help and cooperation. Archival footage was supplied by the Internet Moving Images Archive, at archive-dot-org. This program was produced with support from the National Endowment for the Arts and the US Department of Education.


Links:
About Stress Management


Helpful links and information on stress, school, and substance abuse.

New Technology High School
If you thought Westfield High School was high-tech, you will be amazed at this school that prepares students to go straight to Silicon Valley.

Westfield High School
The Westfield High School website

Books:

Don't Sweat the Small Stuff for Teens: Simple Ways to Keep your Cool in Stressful Times
by: Richard Carlson 2000
A teenager's guide for coping with catastrophy from the best-selling author of the
The Students Are Watching: Schools and the Moral Contract
by: Theodore R. Sizer and Nancy Faust Sizer 2000
A look at what examples are set in the classroom and how students learn morality in schools.
Class Dismissed: A Year in the Life of an American High School, a Glimpse into the Heart of a Nation
by: Meredith Maran 2001
Author Meredith Maran documents the lives of three high school seniors at Berkely High School in California.
School of Dreams: Making the Grade at a Top American High School
by: Edward Humes 2003
This book chronicles of the lives of