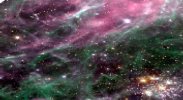 SOUNDPRINT takes a look at new frontiers in space research: the ways scientists are linking space research and biomedical research; the discoveries that are being made in areas of bone loss, cardiovascular disease and muscle atrophy; the thinking on how these conditions affect astronauts on extended space missions; and new ways in which applications from this research may benefit the population on earth, particularly the growing aging population. We'll take you to Boston, Washington, DC and Baltimore to hear from scientists, doctors and astronauts on the cutting edge.

Part I in our mini-series on space research, funded in part by WABE-FM and the Morehouse School of Medicine in Atlanta, Georgia.
Space Aging was produced by Judith Kampfner. This program was funded in part by WABE FM and the Moorehouse School of Medicine in Atlanta, Georgia. Additional support from the National Science Foundation, NASA and WAMU.


Links:
Glen Research Center


Named after John Glen, this center focuses on developing technologies to improve space flight.

Alliance for Aging Research
This leading non-profit organization is dedicated to supporting and advancing research on aging.

NASA's Fundamental Space Biology Outreach Program
NASA explains what experiments done in space reveal about aging and bone health.

Infoaging
Information and advice on healthy aging is provided on this site by the American Federation for Aging Research.

Books:

AstroFit: The Astronaut Program for Anti-Aging
by: William J. Evans, Gerald Secor Couzens, John Glenn (Illustrator) 2003
This fitness plan is outlined on the research done by NASA to keep astronauts fit in space.
Rules for Aging: A Wry and Witty Guide to Life
by: Roger Rosenblatt 2001
Laughter is the best medicine!
Fitness over Fifty: An Exercise Guide from the National Institute on Aging, with a Special Forward by Senator. John Glenn
by: The National Institute of Aging, Foreword by Senator John Glenn 2003
An exercise guide for seniors developed by the National Institute of Aging.
John Glenn: A Memoir
by: John Glenn, With Nick Taylor 1999
The first American astronaut to orbit the earth tells his story.