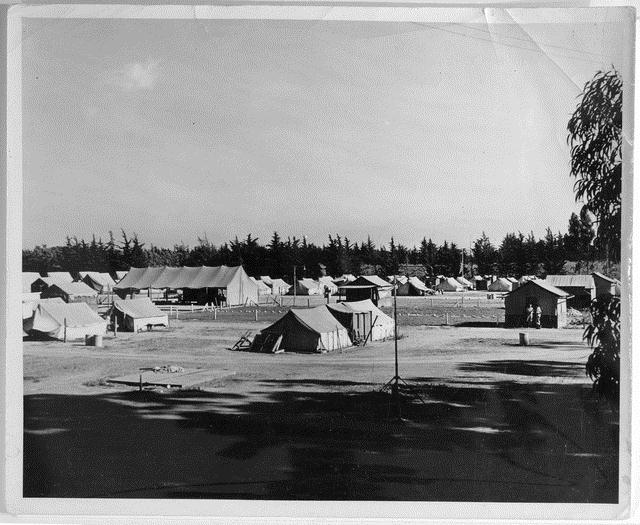 Many of the Oakies and Arkies who poured into California at the height of the Dust Bowl ended up in migrant camps set up by the federal government. Using Library of Congress recorded interviews with the 1935-40 farm worker emigrants, our program tells their stories - about why they left, conditions along the way, life in the camps, and what life was like for a rural farmer back home.
Links:
Dust Bowl Refugees Overwhelm California Relief Agencies
from the Museam of the City of San Francisco.
Voices from the Dust Bowl
from the Library of Congress's American Memory collection.
The American Experience: Surviving the Dust Bowl
the remarkable story of the determined people who clung to their homes and way of life, enduring drought, dust, disease, and even death, for nearly a decade.
Books:

American Exodus: The Dust Bowl Migration and Okie Culture in California
by: James N. Gregory 1991
Gregory traces the roots of Californian culture to the dust bowl migration.
Dust Bowl: The Southern Plains in the 1930s
by: Donald Worster 1990
An exciting environmental history of the devastation of the Great Plains during the Great Depression.
Children of the Dust Bowl: The True Story of the School at Weedpatch Camp
by: Jerry Stanley 1993
This is the story of children of Oklahoman migrant workers and their teachers in a
Waiting on the Bounty: The Dust Bowl Diary of Mary Knackstedt Dyck
by: Mary Knackstedt Dyck, Edited by Pamela Riney-Kehrberg 1999
A rare first hand account of daily life on a southwestern Kansas farm during the Dust Bowl years.