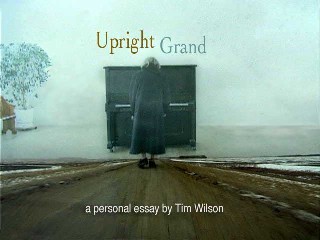 A document of the poignant moment in the life of Producer Tim Wilson's own mother, a daunting figure and a once-accomplished pianist, now diagnosed with Alzheimer's, when she is forced to leave her apartment, her pearls, and her 'upright grand' to enter 'a home.' Upright Grand turns into a searching examination of the often ambiguous relationship between a mother and son.
Upright Grand was produced by Tim Wilson. The show was mixed by Jared Weissbrot.


Links:
Journal of Alzheimer's Disease


A journal dedicated to providing an open forum for original research on Alzheimer's disease.

Persona Media
Find out more about Upright Grand and producer Tim Wilson's sound work.

Alzheimer's Disease International
The umbrella organisation of Alzheimer associations around the world, offering support and information to people with dementia and their caregivers.

Alzheimer's Disease Education
A national resource for information about Alzheimer's disease for health professionals, families, and the public.

Books:

The Forgetting: Alzheimer's Portrait of an Epidemic
by: David Shenk 2003
Journalist David Shenk's 'life story of a biological outlaw.'
The 36-Hour Day : A Family Guide to Caring for Persons With Alzheimer Disease, Related Dementing Illnesses, and Memory Loss in Later Life
by: Nancy L. Mace, Peter V. Rabins 2001
Providing tools and information needed to effectively care for relatives with dementing disorder.
Death in Slow Motion: My Mother's Descent into Alzheimer's
by: Eleanor Cooney 2003
Cooney's well-written and harrowing memoir of her mother's journey.