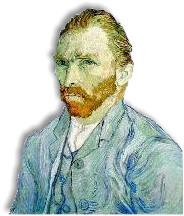 Thronging crowds, ticket lines, competitive scalpers, strict security, frayed tempers... no, it's not the Superbowl or some millennial extravaganza. It's the National Gallery of Art. Producer Joe Gill takes you back behind the scenes at Washington D.C.'s legendary Van Gogh exhibit.
Art Gallery Blockbuster was produced by Joe Gill. Production Assistance from Michelle Garcia. This program was funded in part by the National Endowment for the Arts


Links:
Vincent van Gogh Information Gallery


Resource offers a complete catalog of the artist's paintings, sketches, watercolors, and letters. Find regularly updated news, a bio, and forum.

Virtual Tour at National Gallery of Art
This tour allows you to navigate through panoramas of the exhibition galleries. As you walk through the space, you can select specific paintings for larger image views, close-up details, and more information.

Washington Post: Four Ways to Look at Van Gogh
Explore van Gogh's life through his experiences, artistic styles, and moods.

Van Gogh Museum in Amsterdam
Plan a visit or take a virtual tour through the largest collection of Van Gogh's work.

Van Gogh - Genius Ignored
Read a chapter on the Dutch painter from a book about artists whose genius went unrecognized by contemporaries. Includes 35 pages and images.

Books:
A&E Biography Video: Vincent Van Gogh: A Stroke of Genius
This edition of A&E's long running documentary series explores the life of the brilliant, under appreciated painter.
Van Gogh's Van Goghs: Masterpieces from the Van Gogh Museum, Amsterdam
by: Richard Kendall, Vincent Van Gogh (Artist), Sjraar Van Heugten 1998
A catalogue of the 70 paintings in the 1998-1999 exhibitions of pieces from the van Gogh Museum in Amsterdam.
The Complete Letters of Vincent Van Gogh
by: Vincent Van Gogh 2000
The Artist's letters to his brother, Theo, prove him to be as skillful wielding a pen as he is with a brush.