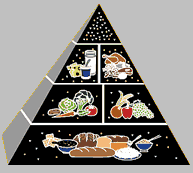 How do farmers, futures traders, scientists and policy makers forecast production? What have they relied on in the past, and how are the new tools, including satellite technology, creating better models? How is the science of prediction evolving? Forecasters of Farming looks at the history, art and science of predicting agricultural production using space technology and climate modeling.
Links:
GRAPES
Grapevine Remote sensing Analysis of Phylloxera Early Stress
Joint Agricultural Facility
This collaborative organization determines the impact of weather changes on agriculture.
Climate Prediction Center
The science behind weather forecasts.
Farmers' Almanac
Farming information and advice
Food and Agriculture Organizations of the United Nations
The UN organization dedicated to defeating hunger around the world.
Books:

The Old Farmer's Almanac 2004
by: Robert B. Thomas (Editor) 2003
This yearly publication features a weather watcher's journal and other information on Gardening and farming.
2004 The Old Farmer's Almanac Weather Watcher's Wall Calendar
by: Yankee Publishing Staff 2003
Filled with photographs, weather trivia, and timeless advice.
Scientific Farm Animal Production: An Introduction to Animal Science
by: Robert Ellis Taylor and Tom G. Field 2003
An overview of the production and management of livestock.
Handbook of Vegetable Science and Technology: Production, Composition, Storage, and Processing
by: D. K. Salunkhe and S. S. Kadam (Editors) 1998
An exhaustive reffernce for farming technology accross different crops and climates.