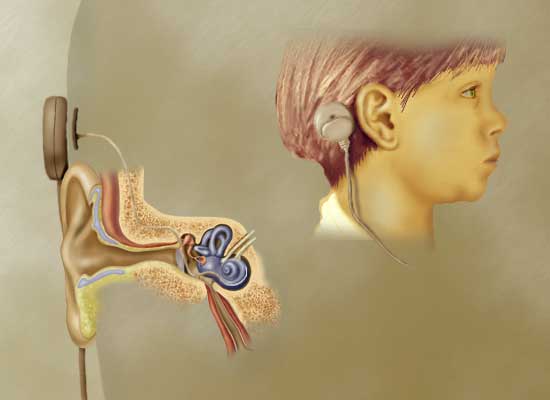 A technological marvel -- the cochlear implant -- can give partial hearing to many profoundly deaf people. But the implant has sparked a surprising debate. Many in the deaf community view deafness as a culture with its own distinct language and identity, not a medical problem in need of remedy. Deaf people ask, why fix something if it isn't broken? The question disturbs many hearing parents of deaf children who see the implant as the only hope for their child to participate in the hearing/speaking world. Producer Loretta Williams explores the culture of deafness.
Speak Easy, Speak Not was produced by Loretta Williams. It aired as part of making Connections, Science on Soundprint, a special series funded in part by the National Science Foundation.


Links:
Hearing Exchange


A collection of resources and ideas on hearing loss including an interview with the Cochlear Corporation.

Cochlear Implant Association
Peruse magazines, manufacturers, essays and other information on cochlear implants.

Hearing Aids vs. Cochlear Implants
Explore the advantages and disadvantages of hearing loss devices articulated by an auditory verbal therapist.

Books:

Cochlear Implants in Children: Ethics and Choices
Find out if the cochlear implant is the best option for your family.
The Mask of Benevolence: Disabling the Deaf Community
by: Harlan L. Lane 1999
Explore the difference between viewing the deaf as disabled and celebrating the deaf as a linguistic minority with a unique culture.
A Journey into the Deaf-World
by: Harlan L. Lane 1996
Discover deaf culture including a look at the positive and negative effects of technology on the lives of the hearing impaired.
A Place of Their Own: Creating the Deaf Community in America
by: John Vickrey Van Cleve, Barry A. Crouch 1997
Learn about how those with hearing loss fit into society.