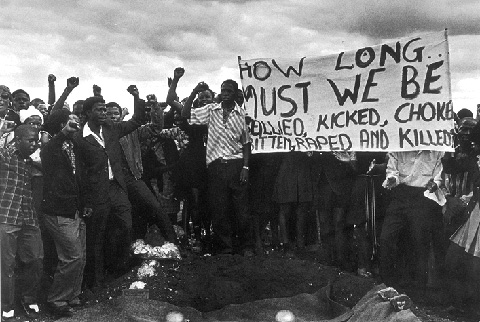 June 16, 1976 - Hector Petersen, a 13-year old South African student is shot and killed during a massive demonstration to protest apartheid laws in South Africa. The photograph of the fatally wounded Petersen being carried from the scene appeared throughout the world and he became a symbol of the anti-apartheid movement. A generation later, June 16 is still a day of remembrance, particularly in Soweto, where Petersen was killed.
Soweto: In Hector's Path was produced by Gemma Hooley


Links:
June 16th Student Uprising


Read a two-part series on the Soweto student protest, browse links on apartheid laws and view the famous photograph of the wounded Hector Peterson.

Soweto South Africa
Learn about the history of the township and view the iconic photograph of Hector Peterson.

The History of Apartheid in South Africa
Learn how racial discrimination was institutionalized in South Africa through apartheid laws.

Books:

Anatomy of a Miracle: The End of Apartheid and the Birth of the New South Africa
by: By Patti Waldmeir 1997
A chronicle of the political and personal struggles to end apartheid in South Africa through the eyes of a journalist.
Soweto: The Fruit of Fear
by: By Peter Magubane 1987
A photographic account of the June 16th uprising in Soweto.
Politics of the New South Africa: Apartheid and After
by: By Heather Deegan 2000
An account of life in South Africa during the past decade.