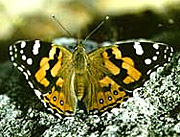 Australian Broadcasting Corporation producer Natalie Kestecher thought it might be useful to have a few options up her sleeve if she ever decides to stop making radio documentary features. So she decided to become a Marriage Celebrant. Natalie enrolled in the first ever training course which, under new Australian legislation, all intending Celebrants must complete in order to be accredited. Being a Celebrant is not just about saying the necessary words (which must always include 'I do') and ensuring the right forms are correctly filled in; it's also about devising meaningful ceremonies for a secular society. Theme weddings, butterfly releases, and quotes from 'The Prophet' are all popular. So what happens if you don't do themes, you hate 'The Prophet' and you think butterfly releases are yucky? Natalie spent a week coming to terms with the modern wedding. It turned out to be a week of introspection. 'The Sobbing Celebrant' offers an entertaining insight into the process that confers upon regular (or not so regular) citizens the right to officiate at the most significant moments in our lives. This program airs as part of our special international collaboration, Global Perspectives: Romance Series.
The Sobbing Celebrant was produced by Natalie Kestecher of the Australian Broadcasting Corporation. It originally aired as part of the international collaboration, Global Perspectives on Romance.


Links:
Global Perspectives: Romance Series


From the do's and don'ts of dating to unprotected sex to a trilingual relationship. Join eight international broadcasters as they bring us stories of Romance from across the globe.

Celebrant USA Foundation and Institute
Thinking about becoming a celebrant or simply looking for one to perform your ceremony? This website is a good place to begin.

Wedding Themes and More
Natalie Kestecher was horrified by the idea of theme wedding. If you loved it, check out this website for ideas and resources.

North American Butterfly Association
Were you, like Natalie Kestecher, disturbed at the idea of butterfly releases? Read this article for more information on the practice.

Books:

Anti-Bride Guide: Tying the Knot Outside the Box
by: Carolyn Gerin, Stephanie Rosenbaum 2001
Do your plans for a non-traditional ceremony go beyond the use of a wedding celebrant? Consult this book for information on how to think outside the box in all matters.
Emily Post's Wedding Etiquette: Cherished Traditions and Contemporary Ideas for a Joyous Celebration
by: Peggy Post 2000
The classic guide to wedding etiquette.
Complete Idiot's Guide to Public Speaking
by: Laurie E. Rozakis 1999
Are you, like Natalie Kestecher, anxious about your public speaking abilities? Check out this book for tips and hints on improvement.