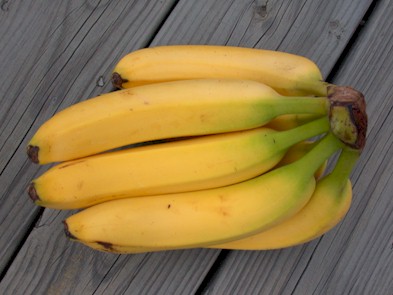 Producer Bob Carty of the Canadian Broadcasting Corporation takes us on a lively and hilarious, but informative examination of the banana. Its history (it could soon be extinct), its biology(it is sexless), its myths (you CAN keep bananas in the refrigerator), and its impact on popular culture, everything from Chiquita Banana, and Monty Python to The Simpsons. This program is part of our international documentary exchange series, Crossing Boundaries.
Will the Banana Split? was produced by Bob Carty of the CBC. It originally aired as part of the international documentary exchange series, Crossing Boundaries.


Links:
Banana Link


A link to the environmental and social issues surrounding the Banana trade.

Banana.com
This site provides information on banana's history, nutritional value, and tasty recipes.

The Great Banana Revolution
Economist Steven E. Landsburg turns the banana over on it's head

Our Favourite Fruit can Neither Reproduce nor Defend Itself from Disease
Robert Alison writes in this progressive news site about the threat of bananas' extinction.

Bananas: A parable for our times
Johann Hari illustrates the probable downfall of the banana.

Books:

Bananas: An American History
by: Virginia Scott Jenkins 2000
The story of how bananas became a staple of the American diet.
Cooking With Bananas
by: David Woods 2002
This book proves bananas are not just for breakfast with banana recipes for soups, salads, and main dishes.
Banana Wars: The Anatomy of a Trade Dispute
by: Tim Edward Josling and T. Taylor 2003
Highlighting the 2001 banana trade dispute, this work examines the relationship between Caribbean economies and European markets.
Bananas!
by: Jacqueline Farmer, Illustrated by Page E. C'Rourke 1999
This brightly illustrated book shows kids how bananas grow and make it from the plant to the plate.
Banana: The Fate of the Fruit That Changed the World
by: Dan Koeppel 2007
An interesting look at the myths and future of the banana.