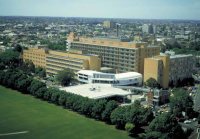 This program is a portrait of the ebb and flow of life within the Alfred Hospital's Trauma and Emergency Department in Melbourne, Australia. In a kaleidoscopic style, Mark Fitzgerald, the Director of Emergency Services takes us into the heart of his department a place where dramatic, life-changing events occur with relentless regularity against a background of routine order. As staff and patients share their experiences of either unexpectedly arriving at the hospital or coming home from it every day, we discover what place the big questions about life, society and human nature have in an environment that by definition strives to maintain the mechanics of life from one moment to the next. This program is part of our special international collaboration, Global Perspectives: Check-up on World Health.
Trauma was produced by Kyla Brettle of the Australian Broadcasting Corporation's Radio Eye. The engineer was Paul Penton. We'd like to thank all of the staff and patients at the Alfred Hospital. All music used in the program is derived from Steve Reich's Different Trains and Electric Counterpoint. This program originally aired as part of our Global Perspective series: Check-up on World Health.


Links:
The Alfred Hospital


Visit the website of the hospital where this piece was recorded.

Yesterday, They Would Have Died
This 2003 Popular Science article profiles the team at Baltimore's Shock Trauma Center and the lives they have saved.

Trauma: Life in the E.R.
This TLC reality series documents what life is like for doctors, nurses, and patients in the emergency room.

Society of Trauma Nurses
This group provides mentoring and career development services to trauma nurses all over the world.

Music Therapy
The American Music Therapy Association uses music to help victims of trauma.

Books:

Trauma Junkie: Memoirs of an Emergency Flight Nurse
by: Janice Hudson 2001
This is the story of an adrenaline junkie who finds her calling as a flight nurse with a helicopter ambulance service.
ER: Enter at Your Own Risk: How to Avoid Dangers inside Emergency Rooms
by: Joel Cohen 2001
This inside view of emergency rooms, shows how to make the best of the chaos and get the best care possible.
Julia's Mother: Life Lessons in the Pediatric ER
by: William Bonadio 2001
A pediatric emergency room doctor tells his experiences and the life lessons learned in the face of tragedy.
The Medicine of ER: An Insider's Guide to the Medical Science Behind America's #1 TV Drama
by: Alan Duncan Ross, Harlan Gibbs 1997
This behind-the-scenes book shows how this television hit recreates emergency room drama.