A Trilogy of Holiday Traditions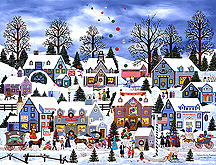 The holiday season is a time of traditions sometimes nostalgic, sometimes quirky. In this program, three public radio listeners share their holiday stories. Cameron Phillips takes us inside the wonderful and horrible world of craft shows. Cathy De Rubeis tests out a special fruitcake recipe to see if she can reverse the backlash to the holiday dessert. And all her life, in all the places she's lived, Caroline Woodward has found a way to sing - from anxiously performing Christmas carol solos on stage as a young girl to feeling joy and zest today with her choir. This program was produced by Iris Yudai and Steve Wadhams from the Canadian Broadcasting Corporation series Outfront. This program is part of the international documentary exchange series Crossing Boundaries.
Our stories today came from the Canadian Broadcasting Corporation's series OutFront. Christmas Crap and Fruitcake were produced by Iris Yudai, and the producer for Keep on Singing was Steve Wadhams.


Links:
Web-Holidays.com


Learn about a variety of cultural holidays and traditions.

Society for the Protection and Preservation of Fruitcake
Fruitcake, much maligned, the butt of many jokes and practical jokes - and yet much esteemed by many, and an important part of many folks' holiday tradition and ritual. This site offers various recipes and links to find more information about this holiday dessert.

Art Festivals and Craft Shows
Search a database of thousands of craft shows throughout North America and check out Sunshine Artists, a monthly magazine devoted to craft show exhibitors, promoters and buyers.

Outfront
Learn more about this CBC series where listeners get to tell their stories, in their words.

Books:

Stories behind the Best-Loved Songs of Christmas
by: Ace Collins, Clint Hansen (Illustrator)
As you go caroling this holiday season, know the meaning behind the songs.
Inventing Christmas: How Our Holiday Came to Be
by: Jock Elliott
Everybody knows about evening carolers, high-flying reindeer, and Yuletide candles. But where did these holiday traditions originate?