The High Stakes of Today's Testing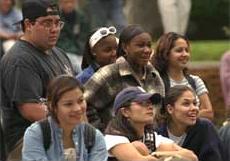 Standardized tests have been around for years in the United States. What's different now is that schools and teachers are being held accountable for the results of these tests. Add to that new federal legislation, and the stakes are raised even higher, with threats of federal funding being cut off to underachieving school districts. Then there is the question of how and what the children are being tested on. Producer Katie Gott follows the paths of two failing schools, one in Maryland and the other in Virginia, to understand how each state applies its testing policy, and how testing impacts schools, teachers, parents and children. What happens if these schools don't make the grade after the scores are in? This program is part of our ongoing series on education and technology and is funded in part by the United States Department of Education.
The High Stakes of Today's Testing was produced by Katie Gott. This show is part the series on education and technology and is funded in part by the United States Department of Education. Resources


Links:
FairTest


The National Center for Fair & Open Testing is an advocacy organization working to end the abuses, misuses and flaws of standardized testing.

Edison Schools
Learn more about Edison run schools across the country.

Virginia Department of Education's School Report Card
Find out more information about high stakes testing in Virginia and how schools are measuring up.

Maryland State Department of Education
Read about the testing, assessment, and standards system in Maryland.

Books:

Scoring Rubrics in the Classroom: Using Performance Criteria for Assessing and Improving Student Performance
by: Jay McTighe, Judith A. Arter 2000
Learn how to judge student performance, and help your students become more effective at assessing their own learning. This book, by Jay McTighe, an expert in the field of assessment, offers a practical approach to assessing performance tasks like creative writing, "real-world" research projects, and cooperative group activities.
The Case Against Standardized Testing: Raising the Scores, Ruining the Schools
by: Alfie Kohn 2000
A look at what test results really tell us and just how harmful a test-driven curriculum can be.
The Big Test: The Secret of History of the American Meritocracy
by: Nicholas Lemann 1999
Trace the time line of standardized testing and the ideas, the people, and the politics behind the system.