Changing Spaces: Hampden, Baltimore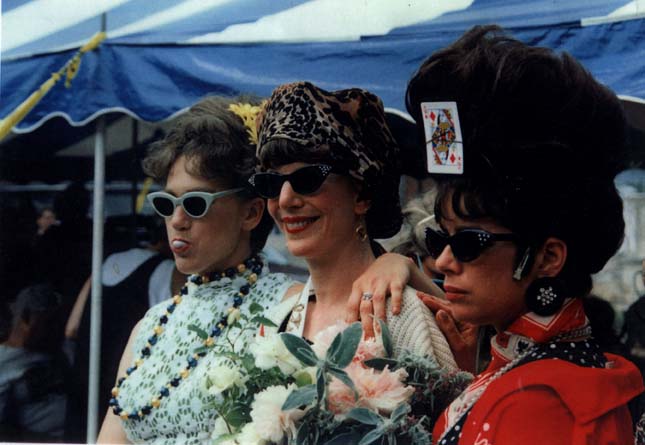 Producer Gemma Hooley profiles the neighborhood of Hampden, in Baltimore. It's a pop culture landscape of pink plastic flamingoes, beehive hairdos, vintage clothing, leopard-skin purses, and cat-eye sunglasses. Then there are the annual festivals like the HonFest competition, and Christmas lights that you'll swear are shining through your radio. Join us as we explore the underlying culture of this blue collar community.
Changing Spaces: Hampden, Baltimore was produced by Gemma Hooley. The show was mixed by Jared Weissbrot. Special thanks to Allan Hicks and Jenny Earhardt.


Links:
Baltimore Neighborhood Heritage Project at the Langsdale Library, University of Baltimore


Explore this oral history collection that tells the story of six Baltimore neighborhoods through the words of longtime residents.

Baltimore Historical Society
Delve into the rich history of Baltimore city.

Hampden's Cafe Hon
Visit one of Hampden's trademark eateries, home to early 40's and 50's Americana ambiance.

Mayor's Annual Christmas Parade
Find out how to join this year's parade and learn more the community of Hampden.

Christmas Street
Browse a photo gallery of Hampden decorated for the holidays, learn more about the area, and find out how to get there.

Welcome to Hampden, Baltimore
Learn more the history of this unique neighborhood and find out what events are coming up including the Hon Fest and The Mayor's Christmas Parade.

Hampden Village Main Street
Find out about upcoming events, volunteer opportunities and Hampden committee meetings. Whether you're an artist looking for a place to show off your art or a connoisseur of the arts, this is the place for you.

Books:

Christmas in My Heart: A Timeless Treasury of Heartwarming Storie
by: Joe Wheeler
A collection of all sorts of Christmas stories, old and new, from far and wide.
Insiders' Guide to Baltimore
by: Elizabeth Evitts, Nancy Jones-Bonbrest (Photographer)
Explore museums, shops, and restaurants with local authors who offer behind-the-scenes information about what's happening in Baltimore. From magnificent downtown movie houses to blue crab dinners, Baltimore dishes up a rich cultural history.
Behind the Backlash : White Working-Class Politics in Baltimore, 1940-1980
by: Kenneth D. Durr
In this look at white working-class life and politics in twentieth-century America, Kenneth Durr takes readers into the neighborhoods, workplaces, and community institutions of blue-collar Baltimore in the decades after World War II.
Breaking Away from Broken Windows: Baltimore Neighborhoods and the Nationwide Fight against Crime, Grime, Fear, and Decline
by: Ralph Taylor
The author uses data on recent Baltimore crime-reduction efforts to attack the 'broken windows' thesis - that is, the notion that by reducing signs of disorder such as dilapidated buildings and graffiti, urban police departments can make significant and lasting reductions in crime.