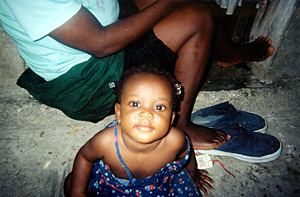 In Haiti, it's not hard to find people who have been touched by HIV. Over 30,000 people died from the disease in 2002. The stories of those who survive draw a portrait of a country in turmoil a mother in a rural countryside already overwhelmed by poverty and disease; sex workers who must decide every night whether to risk condom free sex; and HIV positive family members who still feel a lingering stigma. The prognosis for Haiti's response to the disease still remains elusive. Yet doctors firmly believe that the tide is turning on the AIDS battle in Haiti. We visit centers where community-based work, such as research and treatment, is carried out daily. This program is part of our special international collaboration, Global Perspectives: Check-up on World Health.
Links:
Global Aids Program: Haiti
The Center for Disease Control keeps statistical information on countries ravaged by AIDS on this site.
USAID
The United States Agency for International Development (USAID) contributes largely to the fight against AIDS in Haiti. This site details the current AIDS program in Haiti.
The AIDS Debate
The BBC hosts this site as a center for information on the worldwide AIDS epidemic and the struggle to end it.
AMFAR Global Initiatives
The American Foundation for Aids Research site provides information on AIDS and how you can give and support Aids research.
Books:

Aids and Accusation: Haiti and the Geography of Blame
by: Paul Farmer 1993
The author discusses the way racism and superstition factor into explanations of the AIDS epidemic.
What if Everything You Thought You Knew about AIDS Was Wrong?: The Book That Will Change Your View of HIV and AIDS... and Possibly Change Your Life
by: Christine Maggiore, Foreword by Kary Mullis 2000
This book challenges conventional ideas on the global AIDS crisis.
The Uses of Haiti
by: Paul Farmer, With Jonathan Kozol 2003
In an examination of history and medical research, Farmer questions the American role in the present economic injustice in Haiti.
Breath, Eyes, Memory
by: Edwidge Danticat 1998
This young Haitian American's award winning novel explores the ties between generations of Haitian Women.