New Songs from an Old Mountain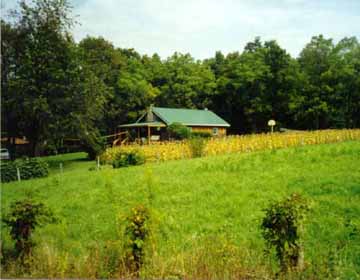 A personal journey through the contemporary literary landscape of Appalachia, guided by some of the new young poets and fiction writers in the region. We explore issues of identity, stereotypes, dialects, and how a new generation defines "home." This diverse group of young writers reflects on these issues in conversation, and they read to us from their recent poems and stories.
New Songs from an Old Mountain was produced by Susan Davis. Special thanks to Jim Harms and West Virginia University. This program was funded in part by The National Endowment for the Arts.


Links:
West Virginia Online


Search the arts and entertainment listings to find out how different types of artists use multiple mediums to express the climate of West Virginian life.

Mountain Lit
Explore the literary history of West Virginia through area authors, both past and present.

Appalachian Journal
Read short stories and current news from the West Virginia Appalachia region.

Books:

At Home in the Mountains : Poems
by: Ken Slone 2001
The poems in this book take the reader to a homeplace where family and friends are of greatest importance, and where the unbroken continuum of life and death is a cause for joy.
Way Out in West Virginia : A Must Have Guide to the Oddities & Wonders of the Mountain
by: Jeanne Mozier 1999
This book is a must have for anyone interested in exploring the numerous nooks and crannies that make up West Virginia.
West Virginia: The Allegheny Highlands
by: Jim Clark (Photographer) 1998
If you have any interest in photography, natural history or West Virginia then this book is a welcome addition to you library.